What Does Vyvanse Look Like?
Vyvanse is a stimulant drug most often used to treat ADHD symptoms. What Vyvanse looks like depends on the manufacturer who made it. It can be a tablet or capsule, be pink, orange, blue, or white, and can have many different imprints on each pill.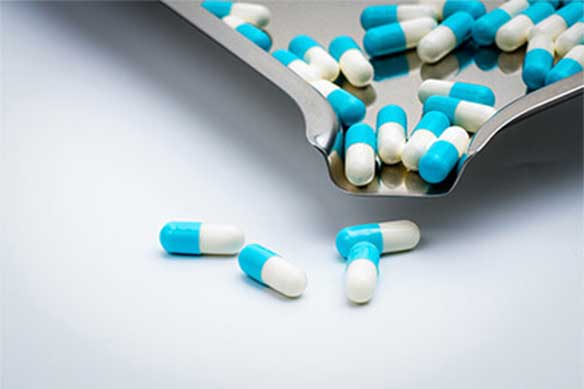 Vyvanse is the brand name for lisdexamfetamine dimesylate, a central nervous system stimulant prescription drug used in the treatment of attention deficit hyperactivity disorder (ADHD) and moderate to severe binge eating disorder.
It works by increasing the levels of the neurotransmitters dopamine and norepinephrine. With ADHD, this leads to a decrease in impulsiveness and hyperactivity.
What Vyvanse looks like depends on a variety of factors including the dosage and what pharmaceutical company manufactured the medication.
What Vyvanse Looks Like
Vyvanse tablets and capsules come in a number of colors, shapes, and strengths, and each pill has a unique imprint on it depending on the dosage and who manufactured it.
That being said, the inside of a capsule or tablet consists of the same ingredients, including lisdexamfetamine dimesylate (the active ingredient), microcrystalline cellulose, croscarmellose sodium, and magnesium stearate.
Some of the different versions of Vyvanse look:
White
Vyvanse primarily can be found as a white tablet. It can be chewable and diamond, round, triangular, oblong, or square in shape and strawberry in flavor. It can also be found in a number of strengths including 10, 20, 30, 40, 50, and 60 mg.
There are also imprints on each chewable tablet that can differ depending on dosage and the manufacturer of the pill. Some of the imprints include:
60 S489
50 S489
S489 20
40 S489
30 S489
10 S489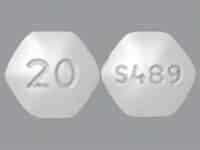 Pink
Vyvanse can also be found as a pink, oblong capsule with a 10 mg strength. The imprint on these pills is S489 10 mg.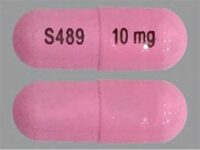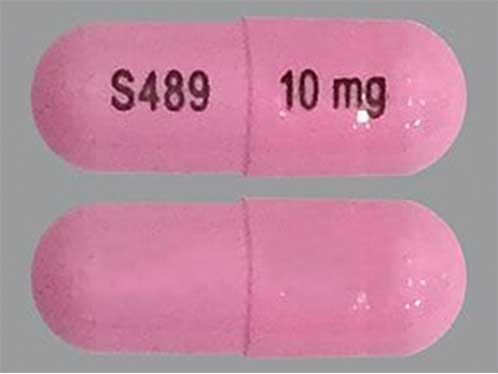 Orange & Blue
There are also a few orange and blue Vyvanse capsules. They usually are 70 mg, oblong, and have orange on one side and blue on the other. There are two imprints on these capsules including S489 70 mg and NRP104 70 mg.
Blue
There are a few different blue Vyvanse pills as well. They are either 50 or 60 mg in strength, blue or white and blue, and oblong. The imprints are either S489 60 mg or S489 50 mg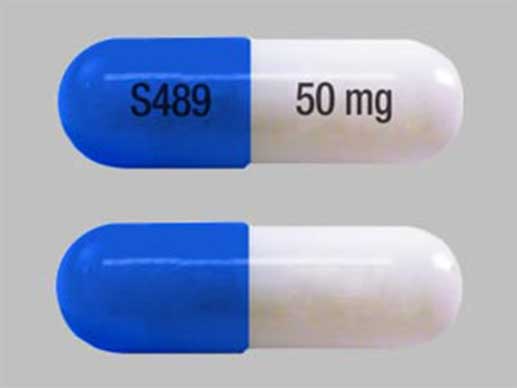 Orange & White
Vyvanse can also be found as an orange and white capsule. They are typically 30 mg, orange on one side and white on the other, and oblong or capsule-shaped. The imprints on each pill may read S489 30 mg or NRP104 30 mg
Orange
There are also orange Vyvanse capsules that are 30 mg. They are oblong and either have NRP104 30mg or S489 30 mg as an imprint.
Side Effects Of Vyvanse
Besides knowing what the ADHD medication looks like, it's also important to know what side effects it can bring on.
Some of the most common side effects of Vyvanse include:
sleepiness
dizziness
headache
increased blood pressure
increased heart rate
constipation
diarrhea
nausea
loss of appetite
weight loss
Drug Interactions
It's also important to know what drugs should not be taken with Vyvanse. When mixed with Vyvanse, the following drugs can lead to adverse reactions:
stimulant medications like amphetamine (in Adderall) and dextroamphetamine (in Adderall)
monoamine oxidase inhibitors (MAOIs) like isocarboxazid (Marplan)
nutritional supplements
acetazolamide (Diamox)
ascorbic acid (Vitamin C)
certain antidepressants like SSRIs and SNRIs
sodium bicarbonate
sodium phosphate
Contraindications
There are also several medical conditions that Vyvanse can make worse. If you have any of these health issues, Vyvanse is likely not the right medication for you:
heart problems like heart attack, high blood pressure, irregular heartbeat, or hardening of the arteries
mental health disorders like depression, bipolar disorder, or mania
family history of heart attack, cardiovascular issues, or sudden death
family history of mental health disorders
motor or verbal tics
seizures
glaucoma
kidney disease
Vyvanse Abuse Potential
While Vyvanse has a medical use, the FDA also classifies it as a Schedule II controlled substance. This means that the drug can be habit-forming and abuse of Vyvanse can lead to physical dependence, withdrawal symptoms, and, ultimately, substance use disorder.
Overdoses are also an issue when it comes to abuse and addiction. In Ohio in 2019, stimulant overdoses increased by almost 50 percent. It was higher than the number of heroin-related deaths that same year.
If you or a loved one live with stimulant drug abuse or addiction and are looking for treatment in Ohio, the healthcare providers at Ohio Recovery Center are here to help.