Toledo, OH Drug Rehab | Drug & Alcohol Rehab Programs In Toledo, OH
Toledo, Ohio offers several treatment options for substance use disorder, including medical detox, inpatient rehab, and aftercare support. The state of Ohio also provides additional support services, hotlines, and access to mental health resources.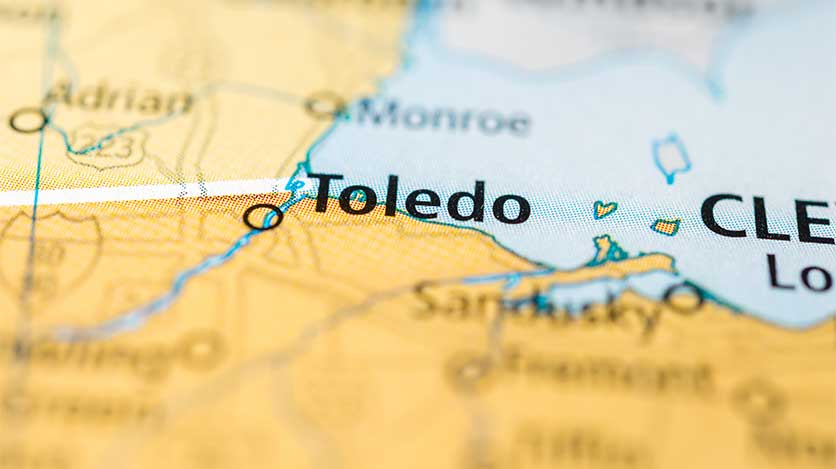 Ohio has been hit especially hard by addiction in the past couple of decades. According to the Ohio Department of Health, in 2007, unintentional drug poisoning became the leading cause of "injury death" in the state and this trend has continued through 2020.
One of the bright spots is that there are many rehab centers available throughout the state.
If you or a loved one are struggling with alcohol or drug abuse and looking for treatment in and around Toledo, there are 18 different drug and alcohol rehab treatment centers within a 25-mile radius. There are another 14 near Maumee and over 50 in and around Columbus.

Toledo Alcohol & Drug Treatment Programs
Many of the rehabilitation centers in and around Toledo, Ohio provide different levels of care to ensure each person receives a customized plan that fits their needs.
The types of addiction treatment programs offered in this area likely include:
Find Drug Rehab Centers In Ohio
Medical Detox
During medical detox, you go to a detox center or a drug rehab center and are supervised by a team of healthcare providers while you come off of drugs and/or alcohol.
Detoxing from drugs or alcohol can produce serious withdrawal symptoms especially if you've built up a physical dependency or live with substance use disorder.
With the supervision of medical professionals, they can ensure those withdrawal symptoms are treated and don't become life-threatening.
This short-term process can take a week or longer depending on the type of substance used, age, and overall health.
Inpatient/Residential Drug Rehab
Inpatient drug rehab involves staying at a residential treatment center 24/7. During this time, you participate in behavioral therapy, group therapy, wellness activities, addiction education, and learn strategies for relapse prevention.
Behavioral therapy may consist of different therapeutic approaches including cognitive behavioral therapy (CBT), contingency management, rational emotive behavior therapy (REBT), group counseling, or motivational interviewing.
Inpatient rehab lasts between 30-90 days depending on the recovery program you choose.
Medication-Assisted Treatment
Medication-assisted treatment (MAT) is a form of addiction treatment used for those with opioid or alcohol use disorder.
During MAT, you're prescribed medication that can help ease cravings, reduce withdrawal symptoms, address physical dependence, and heal some of the damage done by drugs/alcohol use.
Some of the medications used in MAT include methadone, buprenorphine, disulfiram, and naltrexone.
MAT also consists of some form of counseling so that both the body and the mind are treated.
Aftercare Support
Once you're ready to leave formal treatment, aftercare is often offered as a next step. Aftercare allows you to receive a level of support from the treatment facility once you are back in the world.
These services can include therapy (individual, group, or family), support groups, case management, employment assistance, sober-living homes, or even outpatient treatment where you receive treatment during the day but can go home at night.
Using Health Insurance For Addiction Treatment In Toledo, Ohio
Private health insurance as well as Medicaid/Medicare both typically cover at least some of the costs of alcohol and drug addiction treatment. How much they actually cover depends on your specific insurance plan, the provider you go to, and the type of treatment you need.
To find out how much your insurance will cover and what treatment providers are approved by your plan, you can:
contact your private insurance provider and discuss your benefits and approved providers
contact different rehab facilities to see if they accept your insurance
call your Medicare/Medicaid representative to discuss what treatment services your plan covers
reread your insurance policy to familiarize yourself with what it covers and what it doesn't
If you're uninsured, look for treatment centers that offer financial assistance, a sliding-fee scale, or payment plans.
Accessing Substance Abuse Treatment In Toledo, Ohio
The main government organization/agency that is responsible for coordinating, funding, and supporting substance abuse and mental health treatment in Ohio is the Department of Mental Health and Addiction Services.
To find out more information about addiction treatment in Toledo and Northwest Ohio, you can:
call the Ohio Careline at 1-800-720-9616 for free, 24/7 confidential support
call the Crisis CARE Line at 419-904-2273 to connect to mental health and addiction treatment near you
call the SAMHSA National Hotline to find treatment centers near you at 1-800-662-HELP
use the SAMHSA Substance Use Treatment Locator to find addiction treatment centers in your area
Addiction Treatment At Ohio Recovery Center
Ohio Recovery Center is only about 100 miles or an hour and a half away from Toledo and offers a wide range of treatment options including medical detox and inpatient care.
We understand that one size fits all does not apply to addiction treatment. Whether you're struggling with drug and/or alcohol addiction, we can help you find a treatment plan that fits your needs.
To find out more about everything we provide, please call our helpline today.