Cincinnati, OH Rehab | Drug & Alcohol Rehab Programs In Cincinnati, OH
Many people in Cincinnati struggle with drug or alcohol use. That's why the city has various detox and addiction treatment programs. Detox programs help you manage withdrawal symptoms as you stop using drugs. Addiction treatment programs help you cope with cravings and other mental health concerns so you can stay sober and healthy.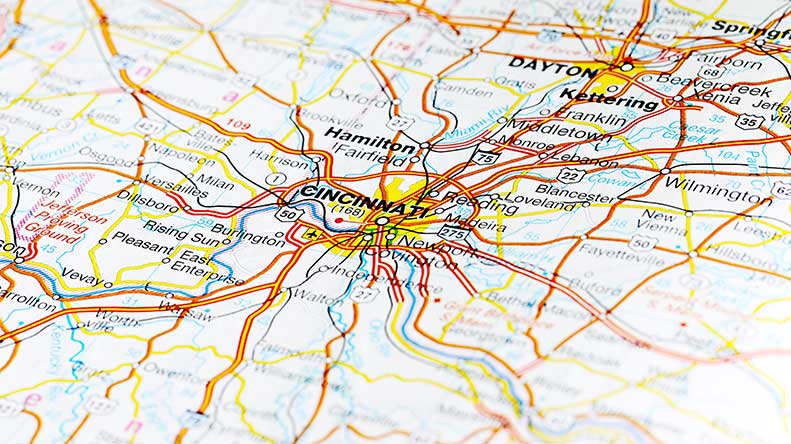 Like many other parts of Ohio, Cincinnati has a serious drug problem. For example, in July 2021, the city reported 174 heroin overdoses in just six days.
To reduce overdoses and other drug-related dangers, the Cincinnati area offers a variety of treatment options for drug addiction (also called substance use disorder).
Most people with drug addiction need two types of treatment: medical detox and addiction treatment.
Learn more about Ohio Drug & Alcohol Rehab
Medical Detox In Cincinnati
Medical detox addresses the physical symptoms of addiction, namely physical dependence. Physical dependence means your body starts relying on drugs to function normally.
If you stop using drugs, you may experience withdrawal symptoms, such as anxiety, nausea, and trouble sleeping. Your specific symptoms will depend on your body and the drugs you used.
At a medical detox center, a team of healthcare providers will help you manage your withdrawal symptoms as you become drug-free.
Detox Services
They will monitor your heart rate, breathing, and other vital signs to make sure you stay as healthy and comfortable as possible. They may also treat certain symptoms with medications, such as anti-nausea medications and sleep aids.
How Long Does Detox Last?
Depending on your needs, detox can take anywhere from a few days to a few weeks.
Some detox programs are inpatient, meaning you live at the facility and receive 24/7 care. Other programs are outpatient, meaning you regularly visit the facility while living at home. Your doctor can help you determine which option is best for you.
What Happens Next?
Once you complete detox, your doctors can give you a referral to an addiction treatment program. Many drug treatment centers in Cincinnati offer both detox programs and addiction treatment programs. That means you may be able to receive both types of treatment at the same facility.
Addiction Treatment In Cincinnati
While detox programs address physical dependence, addiction treatment programs address the psychological effects of addiction, such as cravings, mood swings, and any mental health issues that may have contributed to your drug abuse.
Like detox programs, addiction treatment programs are available on an inpatient or outpatient basis.
Inpatient Treatment
Inpatient treatment (also called residential treatment) is a good option for people who have moderate-to-severe addictions or co-occurring mental health conditions (such as depression, bipolar disorder, or schizophrenia).
Outpatient Treatment
Outpatient treatment can work well for people with milder addictions and strong support systems at home. There are three main types of outpatient treatment:
partial hospitalization programs (PHPs), in which you visit a treatment facility at least 5 days a week
intensive outpatient programs (IOPs), in which you visit a treatment facility at least twice a week
standard outpatient programs (OPs), in which you visit a treatment facility once or twice a week
Cincinnati Addiction Treatment Services
Whether inpatient or outpatient, addiction treatment programs provide numerous treatment services. When you enter the program, your doctors will evaluate your individual needs and create your personalized treatment plan. Most treatment plans include the following services:
Behavioral Therapy
In therapy, a behavioral health professional will help you manage drug cravings and strengthen your overall mental health. Most drug rehab programs in Cincinnati offer multiple types of therapy, such as:
cognitive behavioral therapy (CBT), which can help you change unhealthy beliefs and actions related to your addiction
dialectical behavioral therapy (DBT), which can help you regulate your emotions so you don't feel the need to self-medicate with drugs
family therapy, which can help you strengthen your relationships with your loved ones as you navigate recovery
group therapy, which can help you connect with other people recovering from addiction
Medication-Assisted Treatment (MAT)
If you have opioid or alcohol addiction, your doctors may recommend medication-assisted treatment (MAT). During MAT, you will be prescribed medications to reduce cravings and withdrawal symptoms. These medications may include:
acamprosate, which reduces alcohol cravings
buprenorphine, which reduces opioid craving
disulfiram, which discourages alcohol use by causing unpleasant side effects (such as nausea and headache) when you drink alcohol
methadone, which reduces opioid cravings and withdrawal symptoms
naltrexone, which blocks the pleasant effects of both alcohol and opioids
Aftercare Planning
As you prepare to leave your treatment program, your doctors will help you create an aftercare plan. This plan will include strategies to reduce your risk of relapse, such as:
ongoing therapy
support groups
wellness activities such as journaling, meditation, and exercise
assistance with education, employment, or housing
In some cases, your doctors may also suggest that you continue your treatment by transitioning to a less intensive level of care. For instance, if you attended a partial hospitalization program, you could transition to an intensive outpatient program.
How To Pay For Detox & Addiction Treatment In Cincinnati
Most detox and addiction treatment programs in Cincinnati accept insurance and Medicaid. To determine how much coverage you will get, contact your insurance provider and the rehab program you are considering.
If you don't have insurance or are underinsured, consider taking out a loan, applying for a grant, or starting an online fundraiser. You could also ask family or friends to help you pay for treatment.
To learn more about detox and addiction treatment in Cincinnati, please reach out to Ohio Recovery Center. Our treatment providers offer comprehensive, evidence-based care to help you or your loved one become drug-free.