Van Wert, Alcohol & Drug Rehab Center | Ohio Recovery Center
Van Wert, Ohio is home to Ohio Recovery Center. At our residential facility, we offer inpatient detoxification, medication-assisted treatment, behavioral therapy, and aftercare support.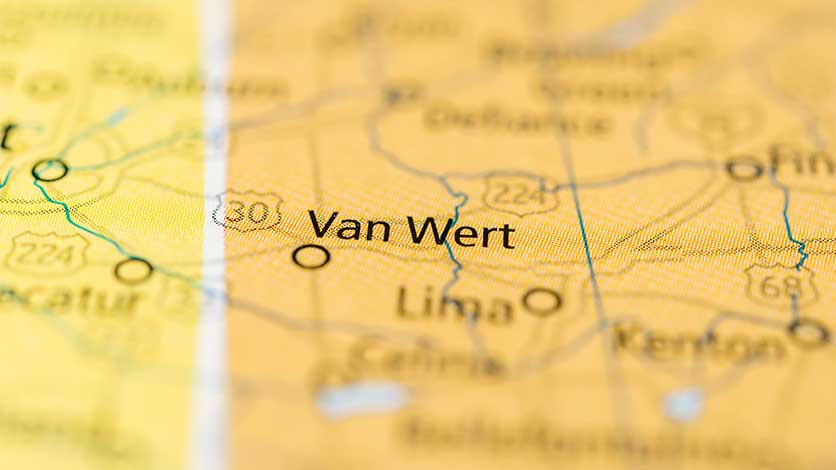 Ohio Recovery Center, located in Van Wert, offers evidence-based treatment options in an inpatient setting. Our treatment facility is ideal for Midwestern residents struggling with substance abuse and mental health issues.
Substance Abuse Treatment In Van Wert, Ohio
The recovery services offered in Van Wert, as well as those in the nearby population centers of Lima, Fort Wayne, and Defiance, include various levels of care.
At Ohio Recovery Center (ORC), we offer personalized treatment services that include:
Find Drug Rehab Programs In Ohio
Medical Drug & Alcohol Detox
Our medical detox program includes supervision and support while patients detox from drugs or alcohol and potentially experience withdrawal symptoms.
Healthcare professionals will keep you safe and comfortable, monitor your withdrawal symptoms, and provide medical advice when necessary. Although detox doesn't treat addiction, it helps prepare you for the coming addiction recovery services.
Inpatient Treatment
Residential treatment programs are for individuals who need intensive and prolonged treatment for substance use disorders, either due to a moderate to severe level of drug addiction or another co-occurring mental health condition.
Ohio Recovery Center is a specialized inpatient rehab center where you can expect a highly structured daily schedule. Our comprehensive treatment services include:
cognitive behavioral therapy
individual and group therapy
alternative therapies like art or exercise therapy
If an inpatient treatment center is too involved for you or a loved one, outpatient treatment includes intensive outpatient programs and partial hospitalization programs. Although less intensive than inpatient care, outpatient rehab facilities can be just as effective.
Behavioral Therapy
At ORC and other drug and alcohol rehab centers, behavioral therapy forms the backbone of addiction treatment.
Both group and individual behavioral therapies are available, which work to change unhealthy thinking and attitudes towards drugs or alcohol. Common behavioral therapies include cognitive behavioral therapy, motivational interviewing, and dialectical behavior therapy.
Medication-Assisted Treatment
Opioid addiction and alcohol addiction can be treated with FDA-approved medications to help improve treatment outcomes and decrease physical dependence.
Medication-assisted treatment (MAT) is administered in combination with mental health counseling and behavioral therapy at our addiction treatment center. Medications that may be available include methadone, buprenorphine, naltrexone, and disulfiram.
Aftercare
Aftercare plans are a key part of our rehab program and provide participants with long-term support and important resources after formal alcohol or drug treatment is over.
Common aftercare services include:
sober living housing
12-step programs or forms of peer support
employment counseling
case management
Using Health Insurance For Addiction Treatment In Van Wert, Ohio
Various forms of health insurance can help pay for your addiction treatment. Medicaid/Medicare, personal or employer-sponsored health insurance, and sliding-scale fees for self-payment are all commonly accepted payment options.
In addition, free or low-cost treatment may be available to qualifying individuals courtesy of state-sponsored or nonprofit treatment providers.
If you or your loved one struggle with drug abuse or addiction in Ohio and are ready to get help, please connect with our helpline today.