Restoril (Temazepam) Addiction | Causes, Signs, Side Effects, & Treatment
Restoril addiction can cause central nervous system depressant effects such as lethargy, dysphoria, worsening insomnia, and cravings when trying to limit use. Thankfully, Restoril addiction can be treated by Ohio addiction treatment centers.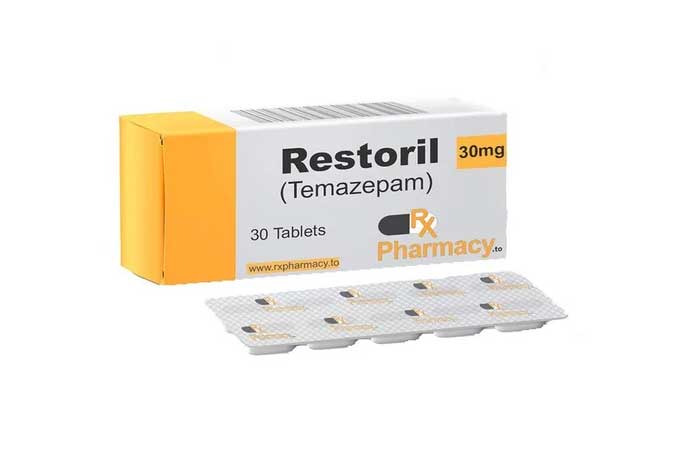 Restoril addiction can cause effects such as drowsiness and sedation. Family members or loved ones may show signs of Restoril addiction through changes in their productivity, mood, or social habits.
Restoril is a brand-name benzodiazepine that treats insomnia. Its generic name is temazepam. Taking temazepam as directed by your doctor can reduce your risk of serious side effects, including drug addiction.
If you or a loved one are struggling with Restoril abuse or addiction, you may benefit from an Ohio prescription drug addiction treatment program, where you can receive mental health services, tapering schedules, and management of your Restoril withdrawal symptoms.
Causes Of Restoril Addiction
Temazepam is a Schedule IV controlled substance with a potential to be habit-forming. Temazepam can cause various aspects of drug addiction, such as dependency and withdrawal symptoms when trying to quit, due to the effects of Restoril on your brain activity.
Long-term temazepam use affects the gamma-aminobutyric acid (GABA) neurotransmitters in your central nervous system.
In high doses, your brain may need temazepam to function normally. This state, known as physical dependence, can cause negative side effects known as withdrawal symptoms when you try to stop taking temazepam.
Restoril Abuse
Improper Restoril use may increase the risk of dependency, withdrawal, and other facets of Restoril addiction in yourself or a loved one. You're likely abusing Restoril if you're:
taking Restoril without a prescription
buying and taking Restoril off the street
taking Restoril in higher doses than you were prescribed
snorting or injecting Restoril capsules
In Ohio, Restoril may see lower rates of drug abuse compared to drugs such as fentanyl and methamphetamine. However, Restoril abuse can still be dangerous to Ohio residents.
Signs Of Restoril Addiction
If a loved one or family member is addicted to Restoril, you may see visible signs of their addiction. Signs of a Restoril addiction in a loved one may include:
changes in mood
changes in daily routine
the presence of drug paraphernalia, such as syringes or straws
a drop in school or work performance
needing high doses of an existing Restoril prescription
If you are addicted to Restoril, you may also show these signs to people close to you. These signs may be indicative that your loved one is in need of professional help.
Side Effects Of Restoril Addiction
An addiction to Restoril can include the normal side effects of temazepam, such as:
drowsiness
dry mouth
dysphoria
nausea
vomiting
lightheadedness
You may also experience long-term withdrawal symptoms, such as drug cravings, muscle cramps, and worsening insomnia. These symptoms can make quitting Restoril difficult.
Restoril Overdose
A Restoril overdose can occur when you take high doses of the drug at once. Symptoms of a Restoril overdose may include severe sedative effect, slurred speech, and breathing problems (respiratory depression).
A temazepam overdose can be life-threatening in severe cases. Your risk of overdose increases when Restoril is part of polysubstance abuse alongside opioids.
In Ohio in 2020, benzodiazepines such as Restoril, Valium, and Xanax had lower rates of overdose deaths compared to other drugs, such as fentanyl, cocaine, and methamphetamine. However, Restoril can still be dangerous when it is targeted for substance abuse.
Restoril Addiction Treatment Options
Restoril may only be prescribed for short-term use. Taking Restoril for long periods of time can increase your risk of Restoril addiction.
If you or a loved one are struggling with improper drug use in Ohio, you can reach out to inpatient or outpatient addiction treatment services in your area. You can also consider Ohio Recovery Center, an inpatient treatment center in Van Wert.
Our benzodiazepine addiction treatment program can include medical detox, a tapering schedule where you slowly reduce temazepam use over time, and long-term care plans for your specific needs. To learn more, please contact us today.