Cleveland, Ohio Drug & Alcohol Rehab Programs
Addiction treatment options in Cleveland and Cuyahoga County include medical detox, various forms of individual and group therapy, medication-assisted treatment, and mental health care. All these options are available on an inpatient basis at Ohio Recovery Center.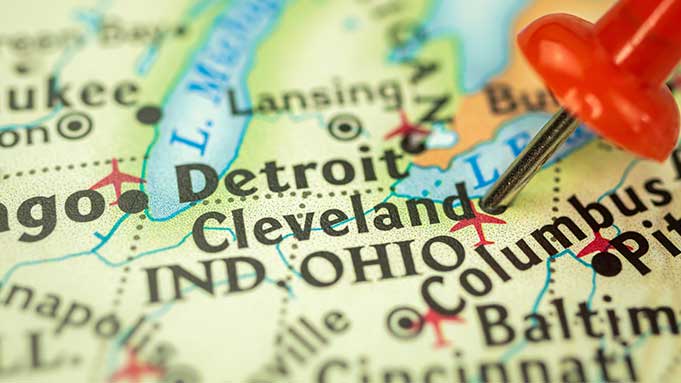 Ohio is one of the hardest-hit states by the opioid epidemic. Overdose rates were already high, and the COVID pandemic drove them even higher.
In 2020, alcohol-related deaths were 29 percent higher in Ohio than in 2019, and there were 22 percent more drug-related deaths than the previous year.
More than 700 Cuyahoga County residents lost their lives to drugs or alcohol in 2021, making it the worst year ever for overdose death.
Cleveland has struggled to reverse the trend over the last few years, encouraging naloxone (an opioid overdose reversal agent) distribution and striving to increase treatment access.
There are many drug and alcohol addiction treatment options on Euclid Avenue and the Greater Cleveland area.
Find Drug & Alcohol Rehab Programs In Ohio
Cleveland Drug & Alcohol Detox
Drug and alcohol rehab in Cleveland may start with medical detoxification (detox). With alcohol, benzodiazepine, or opioid addiction, your body develops a physical dependence. If you suddenly stop substance use, you may have life-threatening withdrawal symptoms.
Cleveland medical detox programs ensure your safety through the withdrawal process. You'll be placed in an inpatient environment with 24-hour support. Medical professionals will monitor your vital signs and may give you medication to ease withdrawal symptoms.
Detox typically takes a week or two, but it can depend on the severity of your addiction. You may begin treatment planning during detox for a smooth transition into rehab.
Addiction Treatment Options In Cleveland
Cleveland has many treatment centers that offer various services for addiction recovery. There is no single treatment type that cures a substance use disorder. The best addiction treatment programs use several methods to heal your mind and body and teach relapse prevention techniques.
Addiction treatment options in Cleveland may include:
Cognitive Behavioral Therapy (CBT): CBT helps you pinpoint destructive thought patterns that trigger substance abuse and gives you tools for positive coping.
Dialectical Behavior Therapy (DBT): DBT focuses on your emotions and response to the world around you, aiming to increase awareness and decrease harmful reactions.
Motivational Interviewing (MI): MI examines your recovery goals and reminds you how you could benefit from a healthy, drug-free life.
Group Therapy: Facilitated by a therapist, group therapy brings together people with similar issues to share their experiences and work together toward recovery.
Peer Support Groups: Facilitated by someone in recovery, support groups help people cope with specific shared issues by communicating their struggles and sharing perspectives.
Exercise: Exercise strengthens your body and improves your mental health to counteract the adverse effects of alcohol and drug addiction.
Nutritional Support: Nutrition is vital to living a healthy life. Nutritional support guides you in choosing beneficial foods that nourish your healing body and mind.
Art Therapy: Art is a form of emotional expression that can feel less vulnerable than talking. Art therapy encourages you to release what you're holding inside you that triggers alcohol or drug use.
Yoga: Yoga is a type of exercise and relaxation that can involve stretch, balance, strength-building, and meditation.
Meditation: Meditation is focusing on one thing (such as an activity or object) to achieve a sense of calm and be present in the moment. Yoga and meditation often go hand-in-hand, but they can be practiced separately, too.
Treatment services at Cleveland recovery centers might include adolescent programs, gender-specific therapy groups, or LGBTQ-friendly care. Many treatment facilities follow 12-step programs that use the 12 steps to recovery as a foundation.
Cleveland Medication-Assisted Treatment (MAT)
Medication-assisted treatment (MAT) has helped many people with alcohol or opioid addiction find recovery. Relapse is common in individuals who struggle with opioid or alcohol cravings after detox. MAT combines medication with behavioral therapy to ensure whole-person healing.
The type of MAT medication you receive depends on your needs:
Acamprosate (Campral) decreases your desire to drink alcohol after you've detoxed.
Disulfiram (Antabuse) makes you feel ill if you drink alcohol with it.
Naltrexone (ReVia, Vivitrol) blocks the effects of alcohol and opioids so you have fewer cravings and less desire to drink or take drugs.
Buprenorphine (Suboxone) produces a mild opioid effect that reduces cravings.
Methadone dulls the effects of opioids, decreasing withdrawal symptoms and cravings.
Cleveland MAT programs can reduce treatment dropout, overdose death, criminal activity, birth complications, and other issues that result from continued substance abuse or relapse.
Cleveland Dual Diagnosis Programs
Some addiction treatment centers in Cleveland offer dual diagnosis treatment for people who suffer from addiction and other mental health problems (co-occurring disorders).
Mental disorders like anxiety, depression, and bipolar can lead people to substance abuse, and addiction can worsen the symptoms of these disorders. The chance of relapse is much higher if these issues aren't resolved during treatment.
Dual diagnosis treatment examines how co-occurring disorders affect each other and your overall wellbeing. A therapist works with you to deal with the root causes of these disorders so you can experience a full and lasting recovery.
Inpatient & Outpatient Treatment In Cleveland
Cleveland offers inpatient and outpatient alcohol and drug treatment programs.
Inpatient rehab provides a place to live at the treatment center that frees you from everyday distractions. Anyone can benefit from inpatient treatment, especially those who've relapsed multiple times or don't have a supportive home environment.
The therapeutic community of an inpatient rehab center surrounds you with support from like-minded people. Inpatient programs usually last up to 30 days, though some long-term residential programs offer care for 45 days to a year or more.
Outpatient rehab programs can be used as a transition out of inpatient care, or they can stand alone. Several levels of care are available. You may be evaluated and placed in the most appropriate level, or you might step down each level until you're ready to exit treatment.
The levels of outpatient care are:
Partial hospitalization programs (PHPs): PHPs use the same therapies as inpatient programs, but they allow you to live at home or in a sober living facility. You spend a lot of time at the treatment center—six to eight hours a day on three to five days a week.
Intensive outpatient programs (IOPs): IOPs are similar to PHPs, but they require less of your time. You visit the treatment center for two to five hours at a time on three to five days per week.
Outpatient programs (OPs): Standard outpatient programs meet a few hours each week and tend to focus on counseling and group therapy.
Sober-living homes: These houses provide a substance-free environment free of temptation and triggers. They have a resident supervisor to support you and ensure you stay on track with your recovery.
Aftercare: Any level of an outpatient program can be considered aftercare if it follows inpatient rehab. But aftercare can also include substance abuse counseling, phone check-ins, and monthly alumni meetings at the treatment center.
Paying For Alcohol & Drug Rehab In Cleveland
Many Ohio health insurance providers (including Medicaid) cover part of the cost of rehab. Some will cover up to 30 days in an inpatient program, but others only cover outpatient care. Check with your provider to be sure.
If you don't have coverage, or if your deductible is too high for you to afford rehab, payment options may be available. Some Cleveland alcohol and drug rehab centers offer sliding-scale fees based on income or payment plans that give you a few months to make smaller payments.
Whatever the case, don't let the cost of rehab prevent you from getting help. Addiction is expensive. You might be spending thousands of dollars each year to keep up with it, not to mention the cost to your health and relationships. Recovery is worth it.
Finding The Best Rehab Center For You
The best Cleveland substance abuse treatment programs use a variety of evidence-based treatment options and work with you to create a personalized treatment plan. Look for a treatment center that considers your (or your loved one's) individual needs.
Sometimes it helps to get away from home during the recovery process. Just three hours from Cleveland in Van Wert, Ohio Recovery Center offers comprehensive residential treatment programs that nurture your mind and body.
Speak with an Ohio Recovery Center behavioral health specialist today to learn more.