Columbus, Ohio Alcohol & Drug Rehab Programs
Many residents of Columbus, Ohio live with drug addiction. Luckily, the city offers a variety of inpatient and outpatient addiction treatment programs. These programs provide personalized, evidence-based services such as medical detox, mental health counseling, and medication-assisted treatment.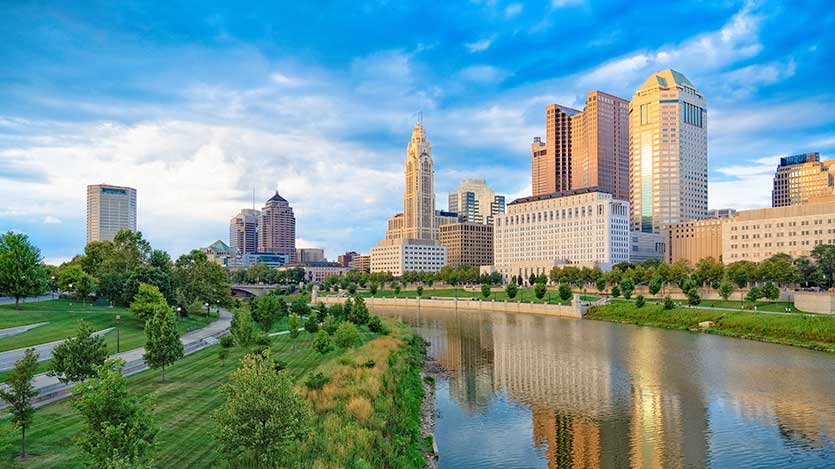 Between 2018 and 2020, suspected drug overdoses in Columbus, Ohio rose by 29%. Most people who overdose struggle with substance use disorder (also called drug addiction). This disease requires professional treatment.
Fortunately, Columbus has a variety of substance abuse treatment programs to help you or your loved one become drug-free.
Columbus, Ohio Alcohol & Drug Rehab Programs
Like other Ohio cities, Columbus offers both inpatient and outpatient addiction treatment programs.
Inpatient Treatment Programs In Columbus
During inpatient rehab (also called residential treatment), you will live at a treatment facility and receive constant supervision.
This option is recommended for people who have moderate-to-severe addictions or co-occurring mental health issues. It can also be helpful if you lack a strong support system at home.
Outpatient Treatment Programs
During outpatient rehab, you will regularly visit a treatment facility while living at home.
This option works best for people with milder addictions and supportive home environments. It can also benefit people who want to transition to a less intensive level of care after completing inpatient treatment.
There are three main types of outpatient care. The most intensive type is called partial hospitalization. In a partial hospitalization program (PHP), you will visit an addiction treatment center at least 5 days a week.
The next type of outpatient care is called intensive outpatient treatment. In an intensive outpatient program (IOP), you will visit the treatment center at least twice a week.
The final and least intensive type of outpatient care is called standard outpatient treatment. In this type of program, you will only visit the treatment center once or twice a week.
Columbus Addiction Treatment Services
Whether you choose inpatient or outpatient treatment, Columbus rehab facilities offer a variety of treatment options. When you first enter the program, a team of clinicians will determine your needs and create your individualized treatment plan.
Most treatment plans include the following services:
Medical Detox In Columbus, OH
One of the most common symptoms of drug addiction is physical dependence. When you're physically dependent on a drug and stop using it too quickly, you may experience withdrawal symptoms.
Some symptoms are physical, such as sweating and nausea, while others are mental, such as anxiety and depression. These symptoms lead many people to relapse (start using drugs again).
During medical detox, doctors will help you slowly and safely stop using drugs so you can avoid or reduce withdrawal symptoms. They may also treat certain symptoms with medications.
Mental Health Counseling
During your addiction recovery journey, you may experience a host of mental health concerns, including:
drug cravings
anxiety
frustration
guilt
hopelessness
A behavioral health professional can help you manage these feelings in therapy. They can also help you treat any underlying mental health concerns that made you want to abuse drugs in the first place.
Behavioral Therapy
Most Columbus rehab centers offer multiple types of therapy. The most common types include:
cognitive behavioral therapy, which can help you change unhelpful beliefs and actions related to substance abuse
motivational interviewing, which can help you become more motivated to recover from addiction
family therapy, which can help you and your loved ones resolve conflicts surrounding your addiction
group therapy, which can help you develop relapse prevention and life skills alongside other people recovering from addiction
Medication-Assisted Treatment (MAT)
If you live with alcohol addiction or opioid addiction, your treatment plan may include medication-assisted treatment (MAT). During MAT, doctors will prescribe medications to make your recovery easier.
The United States Food and Drug Administration (FDA) has approved the following medications for use in MAT:
acamprosate, which eases alcohol cravings
disulfiram, which discourages alcohol use by causing nausea, headache, and other unpleasant side effects when you drink alcohol
buprenorphine, which eases opioid cravings
methadone, which eases opioid cravings and withdrawal symptoms
naltrexone, which blocks the pleasant effects of both alcohol and opioids
MAT is always used in combination with behavioral therapies.
Dual Diagnosis Treatment
Many people with drug addiction also have co-occurring disorders such as depression, posttraumatic stress disorder, or schizophrenia.
Dual diagnosis treatment helps you address these disorders through therapy, medications, support groups, and any other services your doctors deem necessary. When you treat all your mental health concerns at once, you face a much lower risk of relapse.
Aftercare Planning
Before you finish treatment, your doctors will help you create an aftercare plan. This plan will include strategies to reduce your risk of relapse.
Depending on your needs, these strategies may include:
ongoing therapy
support groups
wellness activities such as exercise, meditation, and creative hobbies
sober living homes (residences designed to help people transition back to normal life after rehab)
assistance with education or employment
How To Pay For Addiction Treatment In Columbus
Most addiction recovery programs in Columbus accept health insurance and Medicaid. To figure out how much coverage you will receive, contact your insurance provider and the rehab center you are considering.
If you don't have insurance, or if your insurance plan does not provide enough coverage, you have other options. Many people pay for addiction treatment by:
applying for loans
applying for scholarships from organizations such as 10,000 Beds
asking family or friends to help pay
starting an online fundraiser
To learn more about drug abuse treatment options in Ohio, please contact Ohio Recovery Center. Our board-certified treatment providers offer a variety of evidence-based services to help you stay healthy and sober.