OxyContin Street Names & Slang Terms
OxyContin is a potent and widely abused semi-synthetic opioid narcotic that is highly sought after by those who abuse prescription painkillers. On the street, generic oxycodone goes by OC, Oxycotton, Oxy, Percs, and Roxy.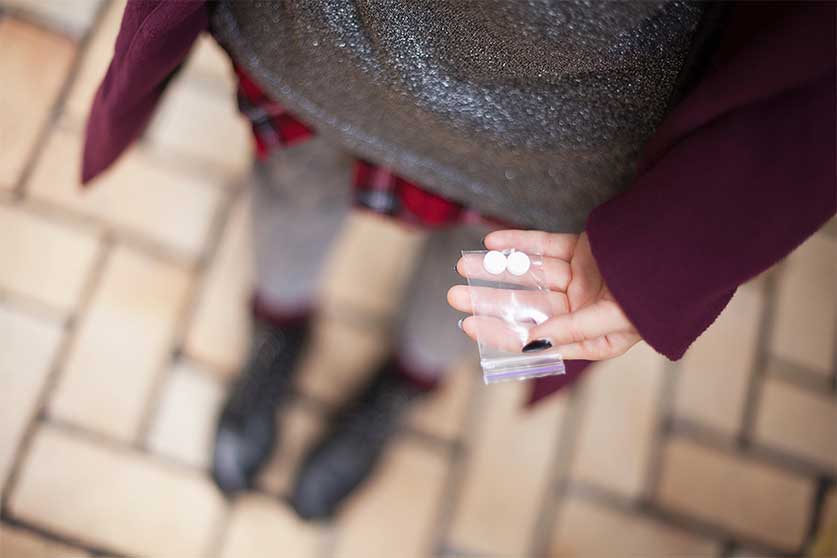 Since its original adoption by the FDA for U.S. medical use in 1939, oxycodone (brand name OxyContin) has been widely prescribed to manage both acute and chronic pain.
However, the drug has also been widely abused, particularly in the late 1990s and early 2000s as the medication played a central role in the early U.S. opioid epidemic.
This abuse continues today, with both legitimate oxycodone products and counterfeits widely available on the streets and online despite the risks that come from misusing this highly potent opioid painkiller.
Street Names For OxyContin
Over time, drugs of abuse tend to accumulate a wide variety of casual and ever-evolving nicknames that play off the drug's name, physical characteristics, or effects.
Some common street names for OxyContin and oxycodone include:
hillbilly heroin
blues
kickers
OC
oxy
ox
oxycotton
perks
percs
roxy
roxies
40 (40-milligram pills)
80 (80-milligram pills)
Note that these terms can vary from region to region or even individual to individual.
Brand Names For Oxycodone
Oxycodone is a generic semi-synthetic opioid product made by modifying thebaine, a natural alkaloid compound extracted from the opium poppy alongside morphine and codeine.
It is around twice as potent as morphine and has been used as the active ingredient in various brand-name pain relief products and generic equivalents.
In the US, these products have included:
Dazidox
Eth-Oxydose
Oxaydo
OxyContin
OxyContin CR
Oxydose
Oxyfast
Oxy IR
Roxicodone
Roxicodone Intensol
Roxybond
Xtampza ER
Oxycodone combination medications have included:
Oxycet (acetaminophen)
Percocet (acetaminophen)
Roxicet (acetaminophen)
Xartemis XR (acetaminophen)
Percodan (aspirin)
Combunox (ibuprofen)
Drugs Similar To OxyContin
All opioid drugs generally work in the body in a similar way, binding to opioid receptors in the central nervous system to reduce anxiety and the sensation of pain at lower doses or produce a highly addictive euphoria and central nervous system depression in higher doses.
However, opioid-class drugs can vary widely in their potency, origin, legal status, and danger, with highly potent synthetic opioids like fentanyl being the deadliest drug class of abuse in America.
Some of the most common opioid/opiate drugs available in the United States include:
heroin (a Schedule I illicit substance)
codeine
fentanyl (Actiq, Duragesic, Sublimaze, etc.)
hydromorphone (Dilaudid, Exalgo)
hydrocodone (Vicodin, Lortab)
methadone (Methadose, Dolophine)
oxymorphone (Opana, Opana ER)
meperidine (Demerol)
morphine (Roxanol, MS-Contin, Kadian, etc.)
With few exceptions, all FDA-approved prescription opioid drugs are classified as Schedule II controlled substances with a very high risk for drug abuse, dependence, and addiction.
Heroin & Fentanyl
Research indicates that some who begin abusing prescription opioids, such as OxyContin, eventually transition to heroin or fentanyl when they are unable to continue accessing legitimate medications.
Others have attempted to purchase OxyContin but instead received counterfeit prescription drugs made with other, sometimes dangerous or even lethal ingredients like fentanyl.
Common street names associated with heroin, fentanyl, or mixes of the two include:
apache
china white
china girl
white stuff
friend
goodfella
smack
dope
thunder
skunk
Treating Oxycodone Addiction And Dependence
Drug addiction is a serious but treatable behavioral health disorder.
For most individuals, the recovery process begins with medical detox services provided in either an inpatient or outpatient setting.
Here, healthcare professionals guide participants through the process of acute withdrawal while being supported physically, emotionally, and medically to alleviate the worst symptoms of withdrawal.
Other Treatment Services
Following detoxification, treatment continues in a formal recovery program.
Participants focus on their recovery over an extended period of time, working closely with behavioral health experts to develop the motivation, coping skills, and strategies required for a long-lasting recovery.
This process involves counseling, behavioral therapy, peer support, dual diagnosis treatment for other mental health conditions, and other personalized forms of treatment.
Medication-assisted treatment options using buprenorphine, methadone, or naltrexone may also be offered to help relieve cravings and other withdrawal symptoms or discourage future oxycodone abuse.
If you or a loved one live with oxycodone addiction and need help, please contact us today.