Alcohol & Drug Rehab Services In Zanesville, Ohio
Alcohol and drug addiction treatment services in Zanesville, Ohio, include detox programs, medication-assisted treatment, and mental health services in both residential and outpatient settings.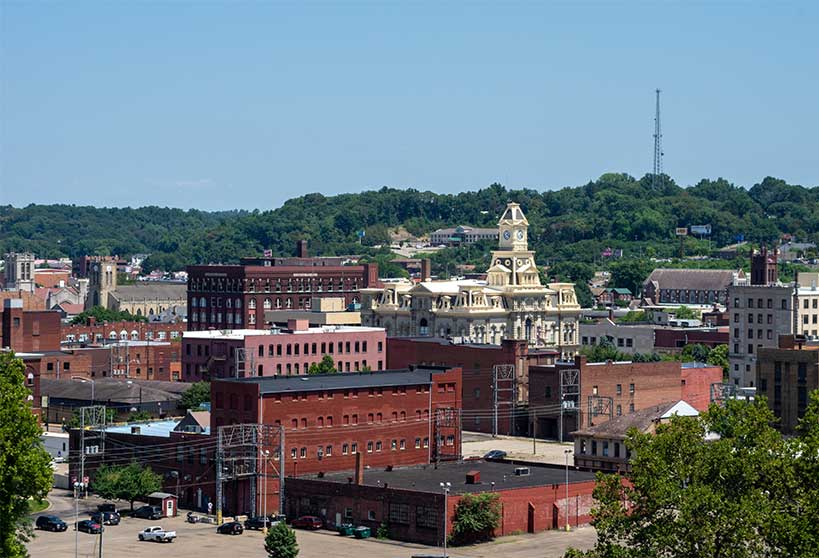 If you or a loved one live with alcohol or drug addiction in Zanesville, you may be at risk of serious health problems such as drug overdose and severe withdrawal symptoms. To reduce your risk of these health issues, you may benefit from an individualized treatment program.
Available Addiction Treatment Services In Zanesville, Ohio
Drug and alcohol addiction treatment centers in Zanesville offer treatment that caters to your specific needs. Treatment services offered by rehab centers in Ohio and this area may include:
alcohol & drug detoxification
inpatient treatment
outpatient treatment
medication-assisted treatment
mental health services
Alcohol & Drug Detox
A successful detoxification, or detox, is an important first step in managing your drug or alcohol addiction. Medical detox services can improve your chances of a successful detox and withdrawal process while preparing you for further substance abuse treatment services.
Detox centers in Zanesvilles offer supervised medical detox services for habit-forming substances.
Inpatient Treatment
Inpatient rehab, also known as residential treatment, refers to a rehab program that offers patients 24/7 housing and a safe environment to focus on their treatment plan. If you or a loved one are at a high risk of relapsing on drugs or alcohol at home, you may benefit from an inpatient recovery program.
Inpatient treatment providers in Zanesville may offer behavioral health services, mental health care, medication-assisted treatment, aftercare planning, and treatment options for adolescents, victims of abuse, and other specific populations.
Outpatient Treatment
Outpatient services refer to alcohol and drug treatment programs that let patients leave the treatment facility in between treatment sessions.
If you can provide a safe, stable recovery environment at home, your family members and loved ones may benefit from regular or intensive outpatient programs.
Outpatient treatment programs in Zanesville, Ohio may offer behavioral therapy services, mental health services, case management, care for adolescents and victims of abuse, and other recovery services.
Medication-Assisted Treatment
Medication-assisted treatment (MAT) uses researched and approved medication to treat patients suffering from opioid or alcohol withdrawal symptoms. Approved prescription drugs for MAT programs in Ohio may include methadone, buprenorphine, and disulfiram.
In Ohio, MAT programs may only be prescribed by accredited alcohol and drug rehab centers. Some drug and alcohol rehab centers in Zanesville may accept patients already on a MAT program, but not prescribe new MAT programs to patients.
Mental Health Services
Ohio substance use disorder treatment programs focus on a patient's mental health along with their physical health. Treating the mental health of you or your loved one can help you identify and avoid patterns that lead to drug abuse, relapse, and other harmful behavior.
Treatment centers in Zanesville may offer mental health services such as behavioral therapy, group counseling, referrals to support groups, 12-step recovery services, and dual diagnosis treatment for qualified patients.
Paying For Drug & Alcohol Treatment In Zanesville, Ohio
Zanesville addiction treatment centers may accept payment options such as:
Medicare
Medicaid
private health insurance
health insurance provided by the military
sliding scale fees
These payment assistance options can help you get the treatment you need. Talk to your insurance provider to find out whether you qualify for these insurance options.
Zanesville, Ohio Substance Abuse Facts
According to reports from the Zanesville-Muskingum County Health Department, there were 31 drug overdose deaths in the area in 2021. Fentanyl and methamphetamine were the two primary drugs involved in these overdose deaths.
Harm Reduction Ohio also listed Muskingum County with the 7th highest drug overdose death rate in the state during 2020.
The state of Ohio may implement higher rates of naloxone distribution, a substance that can reverse the effects of opioid overdose, to reduce these numbers across the state.
Zanesville, Ohio Alcohol & Drug Abuse Resources
The state of Ohio hosts several helplines for Zanesville residents struggling with drug abuse. These helplines on the Ohio Department of Health's website can refer you and your loved ones to local addiction treatment services at no cost.
The Substance Abuse and Mental Health Services Administration (SAMHSA) also provides toll-free helplines to U.S. citizens for the same purpose.
If you or a loved one live with opioid addiction, you may be eligible for naloxone from Project DAWN. Carrying naloxone can save you or a loved one's life during an opioid overdose.
Ohio Recovery Center
Ohio Recovery Center is located in Van Wert, Ohio, about 180 miles from Zanesville. At Ohio Recovery Center, we offer personalized treatment plans for patients suffering from alcohol or drug dependency.
For information on our inpatient addiction treatment options that cater to your individual needs, please contact us today.