Alcohol & Drug Rehab Services In Wadsworth, Ohio
Wadsworth does not offer access to any local inpatient or outpatient treatment providers. However, residents of Wadsworth can secure treatment in Akron, Cleveland, and other providers operating elsewhere in Ohio, including the Ohio Recovery Center in Van Wert.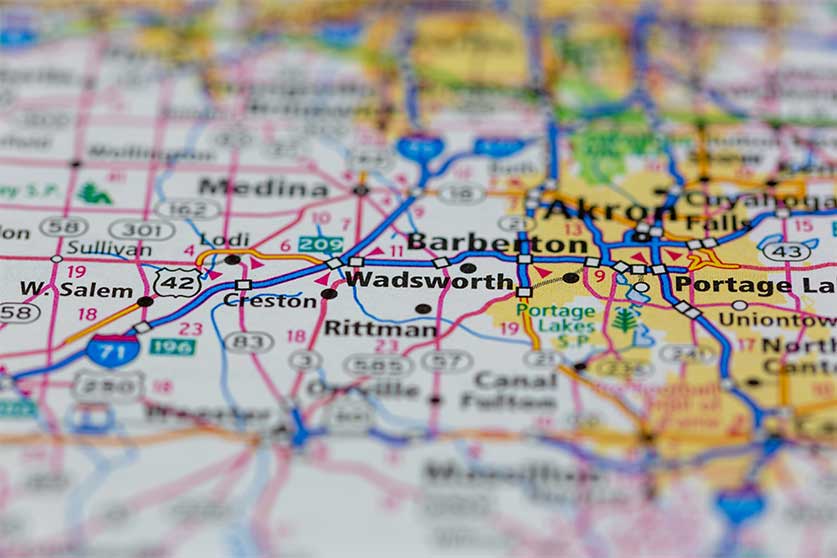 The community of Wadsworth has experienced less of the pain and tragedy of drug overdose and addiction than many other areas of Ohio, with a relatively low rate of overdose deaths.
Nevertheless, widespread alcohol, prescription drug, and illicit drug abuse is a public health priority in Wadworth and Medina County. 
As a result, Ohio and its major cities have been actively cultivating a network of addiction treatment providers with a variety of levels of care and accommodations provided for those with financial concerns.
Drug & Alcohol Treatment Programs In Wadsworth, Ohio
According to information provided by the national Substance Abuse and Mental Health Services Administration (SAMHSA), there are no approved drug or alcohol rehab centers operating in Wadsworth itself.
Because of this, Wadsworth residents who require treatment for drug or alcohol addiction will be required to travel elsewhere in the state to access rehab programs.
Addiction recovery services that may be recommended to you in Akron or across Ohio include:
medical detox programs
outpatient treatment programs
inpatient treatment programs
dual diagnosis treatment
medication-assisted treatment options
peer support groups
counseling
aftercare support
Medical Detoxification
Withdrawal is the uncomfortable and sometimes dangerous process of the body adapting after a person has stopped using drugs or alcohol. Healthcare providers strongly urge that illicit or prescription drug withdrawal be attempted only with medical supervision.
Medical detox programs in Ohio can provide this critical medical supervision as well as counseling, comradery with other participants, creature comforts, and medications as needed.
Outpatient Rehab
Outpatient rehabilitation is a highly flexible format for addiction treatment, and different program types can meet the individual needs of each participant. These formats include:
regular outpatient/counseling programs
intensive outpatient programs (IOPs)
partial hospitalization programs (PHPs)
Outpatient treatment may also be recommended as a form of follow-up treatment after you complete an inpatient program.
Inpatient Rehab
Inpatient treatment is regarded as the most effective and focused option for drug or alcohol recovery.
Participants live inside a specialized addiction treatment center for an extended period of time, working closely with caregivers and participating in treatment options such as:
individual and group counseling
family therapy
various behavioral therapies
medication-assisted treatment
dual diagnosis treatment
other alternative treatment options
Dual Diagnosis Treatment
Mental health disorders are often major causes for the original development of a substance use disorder and drug or alcohol dependency, and can be significant obstacles to the alcohol and drug treatment process.
Fortunately, dual-diagnosis treatment programs are available to provide treatment for alcohol or drug addiction as part of a single course of treatment.
Medication-Assisted Treatment
MAT programs use a combination of counseling and/or behavioral therapy with FDA-approved medications to manage dependence related to opioid or alcohol use disorder.
This treatment approach has shown to significantly improve the effectiveness of substance abuse treatment as well as discourage future relapse.
Aftercare
Many of the best addiction treatment programs offer aftercare programs to continue supporting those who complete their programs.
These long-term support programs often feature sober living housing, case management support, facilitation of peer support groups (Narcotics Anonymous, Alcoholics Anonymous, etc.), relapse prevention programs, and more.
Paying For Addiction Recovery Services In Wadsworth, Ohio
Substance abuse treatment programs in Akron and other areas of Ohio accept payment in various forms, often with considerations for financial assistance. Options may include:
benefits associated with your personal health insurance policy
Medicare and Medicaid benefits
self-payment options
other options for financial aid
Contact your prospective treatment center or the official Medina County ADAMH Board helpline for more information.
Substance Abuse Facts In Medina County
There were 25 fatal overdoses in Medina County in 2021, the highest total in any of the past four years. The county as a whole had an unintentional drug overdose rate of 23.7/100,000 in 2020, well below Ohio's state average of 45.6/100,000
Medina County Drug & Alcohol Addiction Resources
The Medina County ADAMH Board hosts a 24-hour crisis and behavioral health hotline that can connect those in Wadsworth with professional treatment options and drug rehab centers in Akron, Rittman, Orrville, Massillon, and other Medina County communities.
You can also contact the SAMHSA national helpline or use the SAMHSA online treatment services locator to quickly locate potential providers in Ohio or the greater United States.
Ohio Recovery Center
Ohio Recovery Center is an inpatient addiction treatment facility in Van Wert, around 2.5 hours west of downtown Wadsworth.
Our treatment options include:
inpatient detox
inpatient rehab
Medication-assisted treatment (MAT)
dual diagnosis treatment
aftercare support
To learn more, please contact us today.