Kent, Ohio Alcohol & Drug Rehab Services
If you or a loved one are seeking addiction treatment services in Kent, Ohio, you can likely find medical detox programs, medication-assisted treatment, inpatient/outpatient treatment, and follow-up care planning.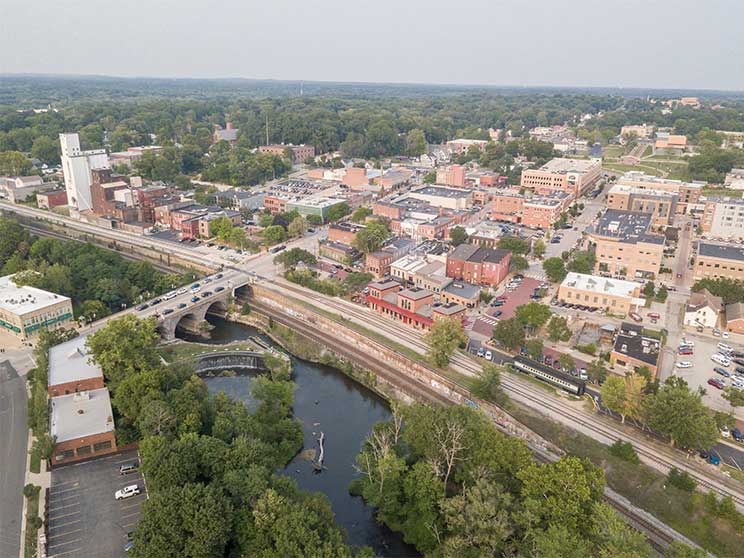 Located in Portage County, the city of Kent provides a variety of alcohol and drug rehab centers that offer specific treatment plans to assist those seeking substance abuse treatment.
If you or a loved one are seeking treatment options, consider the many resources and rehab programs available to you in Kent, Cuyahoga Falls, Akron, and throughout Ohio.
Available Alcohol & Drug Rehab Services In Kent, Ohio
For those struggling with alcohol or drug abuse, local services for addiction recovery include:
medical detox
medication-assisted treatment
inpatient treatment
outpatient treatment
aftercare resources
Medical Detox
Addiction treatment programs follow certain levels of care during the recovery process. One of the first forms of addiction treatment is a medical detox program.
Detoxification helps rid your body of the unwanted toxins and chemicals caused from alcohol or drug dependence. At an inpatient detox center, you can receive short-term medical supervision with healthcare workers monitoring you throughout the process.
Medication-Assisted Treatment
Drug and alcohol rehab centers may provide medication-assisted treatment (MAT) for those suffering from alcohol or opioid use disorder. This type of treatment combines behavioral therapy with medication to better assist those living with opioid or alcohol addiction.
Inpatient Treatment
To address severe substance use disorder, there are structured inpatient treatment facilities that provide a calm and supportive environment for you to recover.
Residential treatment requires you to stay at the addiction treatment center 24/7. However, you will have access to mental health professionals for dual diagnosis, wellness activities to build better habits, and group counseling to develop lasting bonds with your peers.
Outpatient Treatment
If you or someone you love are in search of a more flexible drug or alcohol treatment program, outpatient care can be a good option. With outpatient treatment programs, you will be required to visit the treatment center at various times throughout the week.
Intensive outpatient programs (IOPs) and partial hospitalization programs (PHPs) are the most extensive forms of outpatient care that meet for several hours per week and sometimes daily.
Aftercare Resources
Receiving follow-up care after completing a rehab program may be coordinated by your treatment center to better maintain addiction recovery. Aftercare services may include 12-step groups, sober living options, access to community services, and case management.
Paying For Treatment In Kent, Ohio
Consult the medical advice of your doctor to determine which type of treatment may be right for you. For those of you without insurance, the state of Ohio offers several options including Medicaid and Medicare.
If you have health insurance, contact your insurance provider to determine your type of coverage. Once you have your insurance info ready, contact local rehab centers to determine if they accept your plan.
Substance Use Trends & Facts In Kent, Ohio
According to the Ohio Substance Abuse Monitoring Network (OSAM), drug trends throughout the county of Portage show an increase in fake prescription pills. These pills, which may contain fentanyl or other illicit drugs, are counterfeited to appear as Xanax or Percocet.
Unfortunately, counterfeit prescription drugs can increase the risk of accidental drug overdose. To help prevent opioid overdose deaths, Project DAWN (Deaths Avoided With Naloxone) provides overdose prevention resources like naloxone.
Kent, Ohio Substance Use Resources
For those seeking substance abuse treatment programs, Kent offers numerous resources to assist you on your road to recovery:
Ohio Recovery Center
If you or a loved one lives with alcohol or drug addiction in Kent and can travel three hours to Van Wert, consider Ohio Recovery Center.
At our inpatient rehab facility, our treatment options include medical detox, medication-assisted treatment, behavioral therapy, and aftercare planning.
To learn more about what we offer, please contact us today.