What Does Norco Look Like?
What Norco looks like depends on the manufacturer and strength or dosage. But no matter what it looks like, the drug can be habit-forming and addictive if misused.
Norco is the discontinued brand name for hydrocodone-acetaminophen. The prescription drug is a semi-synthetic opioid analgesic and is used to treat moderate to severe pain. The hydrocodone combination product can also be found under different brand names such as Lortab, Lorcet, and Vicodin.
The pain reliever can be found in a variety of colors and dosages but is usually oblong in shape. The color, dose, and imprint on each pill depends on the drug manufacturer.
Knowing what legitimate Norco looks like can help you stay away from counterfeit versions in Ohio.
What Does Norco Look Like?
What Norco looks like primarily depends on who manufactured it. The tablets are likely capsule-shaped and come in a few different colors and strengths.
White Norco
Norco primarily comes as a white oblong or capsule-shaped tablet that consists of 5 mg of hydrocodone and 325 mg of acetaminophen.
That said, some white Norco tablets contain 325 mg of acetaminophen and 7.5 mg of hydrocodone or 325 mg of acetaminophen and 10 mg of hydrocodone
Besides the dosage, the major difference between white Norco tablets is the imprint on each pill. Some of the imprints may include:
3604 V
G 035
H5/325
IP 109
M365
T 257
WATSON 913
Norco 071
Yellow Norco
Norco can also be found as a yellow oblong tablet, and it likely consists of 10 mg of hydrocodone and 325 mg of acetaminophen. This yellow norco tablet has "NORCO 539" imprinted on each pill.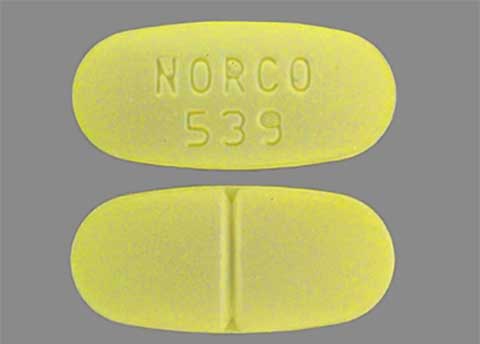 Orange Norco
There are also a few orange oblong Norco tablets that consist of 325 mg of acetaminophen and 7.5 mg of hydrocodone. The main difference between these orange pills is the imprint on each one, which may include WATSOn 729 and NORCO 729.
Side Effects Of Norco
The side effects of Norco can range in intensity from mild to severe depending on how much of the drug you take.
Some of the common side effects may include:
nausea
vomiting
constipation
lightheadedness
dizziness
drowsiness
anxiety
dry throat
narrowing of pupils
Drug Interactions
There are also several drugs that don't mix well with Norco. When combined, they can lead to adverse reactions that can be life-threatening. Some of the medications and substances that shouldn't be taken with Norco include:
over-the-counter supplements
other prescription opioids like codeine, fentanyl, hydromorphone, and oxycodone
naltrexone
alcohol
marijuana
benzodiazepines like alprazolam, lorazepam, and zolpidem
muscle relaxants like cyclobenzaprine
antihistamines like cetirizine and diphenhydramine
Contraindications
There are also quite a few health conditions that Norco can actually make worse. These medical issues include:
brain disorders like head injury, tumors, and seizures
breathing problems like asthma, sleep apnea, and chronic obstructive pulmonary disease
kidney disease
liver damage
mental health issues like depression
personal or family history of a substance use disorder
paralytic ileus
enlarged prostate
gallbladder disease
pancreatitis
Norco Abuse Potential
The Drug Enforcement Administration (DEA) and the U.S. Food and Drug Administration (FDA) classifies Norco as a Schedule II controlled substance.
This means it has a high potential for abuse and can lead to psychological and physical dependence and addiction as well as increase the risk for addiction.
Norco Overdose
Taking high doses of Norco can increase the risk of opioid overdose, which can be life-threatening if left untreated. In Ohio alone, there were 415 unintentional opioid overdose deaths in 2020, and the opioid epidemic is still ongoing in this state.
Some of the signs and symptoms of a Norco overdose may include:
chest pain
cold, clammy skin
difficulty breathing
extreme drowsiness
sedation
irregular heartbeat
loss of consciousness
low blood pressure
bluish lips, fingernails, or skin
If you or a loved one experience any of the symptoms above, call 911 immediately. Additionally, if you know how to administer naloxone (Narcan), now is the time to use it. It can reverse the effects of an opioid overdose.
Norco Withdrawal Symptoms
If you abuse Norco over a long period of time or take it in high doses, there is a significant risk of building up a dependence on the drug. When this happens and you try to quit, withdrawal symptoms are likely to occur. These symptoms can include:
runny nose
irritability
sweating
stomach cramps
nausea
vomiting
diarrhea
tremors
rapid heart rate
trouble sleeping
Because of the severity of some of these withdrawal symptoms, a detox program at a treatment center in Ohio or with your healthcare provider is highly recommended.
If you or a loved one lives with opiate/opioid addiction, you don't have to go through it alone. Ohio Recovery Center (ORC) is here to help you on your journey.
At ORC, we offer a variety of addiction treatment options including detox, inpatient care, medication-assisted treatment, and aftercare support. For more information on our treatment programs, please contact us today.